Neoprene-Lined Piping Systems
Iracore Neoprene rubber materials provide great corrosion protection in water lines and high wear resistance in challenging and turbulent slurry line applications. Neoprene also provides good heat insulation properties to protect lines from freeze up and keep heat inside process lines for energy savings and lower operating costs. Extend service life and reliability of lines with Iracore Neoprene lined piping as an attractive, cost saving alternative to carbon steel piping materials.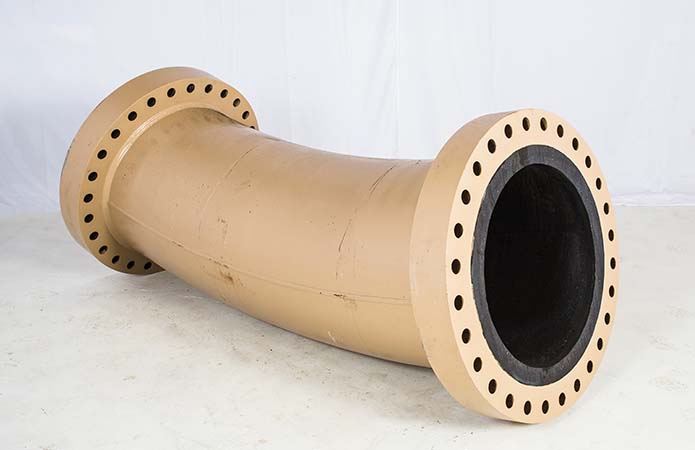 WHY NEOPRENE?
Chloroprene (neoprene) is a superior elastomer that provides good oil, chemical, ozone, weathering and abrasion resistance. It is an excellent general purpose rubber that can handle a wide variety of applications.
IRACORE NEOPRENE VULCANIZED CURING PROCESS
Iracore neoprene-lined parts are prepared for vulcanization (curing), a critical stage of rubber processing. The vulcanization is necessary to enhance the performance properties of raw compounded rubber through crosslinking of its molecular structure.
Crosslinking is accomplished through a reaction with accelerators like organic peroxides or sulfur that are mixed into the raw rubber base. The four basic methods for vulcanizing (curing) rubber linings are autoclave, internal steam, atmospheric steam and ambient (chemical cure).
AUTOCLAVE VULVANIZING
The autoclave steam method involves placing the object(s) to be covered or lined with rubber inside a pressure vessel called an autoclave. The autoclave provides a carefully monitored flow of steam, which delivers the best control over the vulcanization process between the four basic curing methods.
With some of the largest autoclaves in the industry, Iracore can properly cure rubber applied to pipe in lengths up to 60 feet. Autoclave curing offers the greatest potential for producing exceptional rubber-to-substrate bond strength and high-quality rubber products.
Other non vulcanized curing methods are susceptible to either reduced rubber-to-substrate bond strength or variable rubber material properties.
WE ARE HERE TO HELP YOU,
CONSULT WITH US TODAY!
WE ARE HERE TO HELP YOU,
CONSULT WITH US TODAY!